MEET & MATCH. VIRTUAL SHOW BY LINEAPELLE
2021_03_19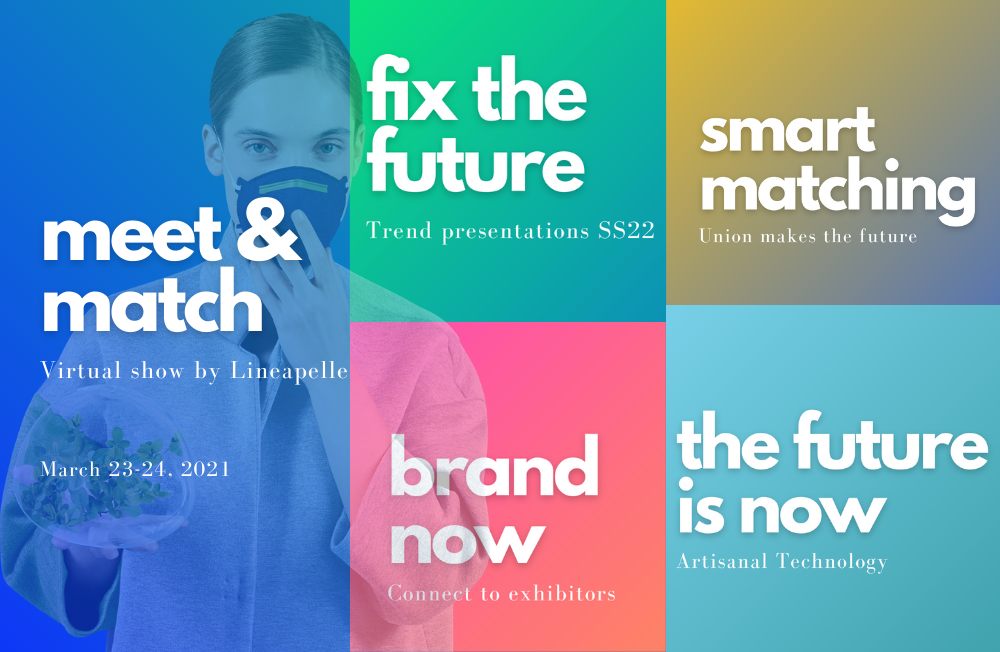 LINEAPELLE will soon host MEET & MATCH!
The event will consist of two full days of digital events on March 23rd and 24th.

Inventiveness is our mantra.
Smart people, wiser experts are matching their visions.

The global community is in Action.

The soul of the fair is to meet and share ideas and experiences.
Meet & Match, will make you listen SMART people, who work with exhibitors.
Creatives professionals from all over the world who explore through real performances will connect Lineapelle exhibitors with the global community.

WHATCH AND DISCOVER THE INNOVATIVE PROPOSALS OF OUR EXIBITORS, WHO INTERACT WITH SMART PEOPLE TO DESIGN THE MOST INNOVATIVE IDEAS.
TREND PRESENTATIONS
Creative visions to predict the near future.

BRAND NOW
The latest collaborations between exhibitors gave birth to unexpected proposals. Working in synergy is the key to successfully lead the market.

SMART MATCHING
From Fashion to Interior and Industrial Design, Architecture and Automotive…we connect Smart people from several countries to discover what they are looking for the upcoming season.

THE FUTURE IS NOW
Navigate into the near future.
The high quality materials of Lineapelle exhibitors become the creative tool through which innovative technologies for product enhancement can be implemented.
Augmented technology applied to craftmanship materials, keeping the genunity of the premium quality product.