LINEAPELLE – A NEW POINT OF VIEW CONFIRMS ITS DATES AND ITS INNOVATIVE PHYSICAL FORMULA
2020_09_10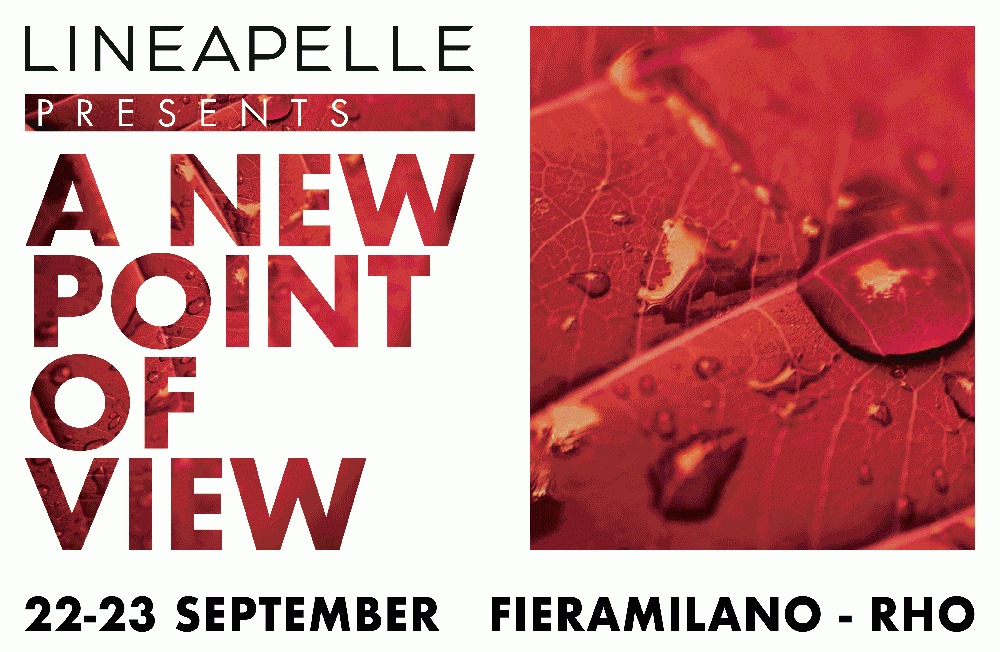 The upcoming event is a sign of positivity and revival. The event will send a concrete, very contemporary message: LINEAPELLE – A NEW POINT OF VIEW will take place on Tuesday 22 and Wednesday 23 September 2020 in the spaces of Fieramilano Rho, coinciding and in synergy with MICAM, MIPEL, The One and Homi - Fashion & Jewels.
CONFIRMATION
LINEAPELLE – A NEW POINT OF VIEW will be held in Halls 5 and 7 of Fieramilano Rho. In light of the current health situation in Italy and thanks to Fieramilano's logistical and organisational support, the event has confirmed its dates and rigorous safety procedures to guarantee the health of exhibitors and visitors. Together with the accompanying trade fairs, the event is an essential opportunity to contribute to the relaunch of strategic sectors of the Made in Italy supply chain and manufacturing industry which, in recent months, have suffered heavy setbacks due to the pandemic.
ECONOMIC SITUATION
The latest available economic data, drawn up by the Economic Service of UNIC – Concerie Italiane based on ISTAT data are unfortunately unequivocal. In the January-May 2020 period, the global health emergency had a major negative impact on production and trade at all levels. Consequently, in the first five months of the year, the Italian leather industry "lost 32% of seasonal turnover and 24% of production volume" on an annual basis. Exports of finished leather dropped 35% in value and 26% in volume. This negative economic trend has also been shared by the other product sectors represented by the exhibitors at LINEAPELLE - A NEW POINT OF VIEW: producers of accessories and components for footwear and leather goods and manufacters of textiles and synthetic materials.
EXHIBITORS AND COLLECTIONS
LINEAPELLE – A NEW POINT OF VIEW will host 320 exhibitors from 14 countries. They will showcase the collections designed for the Fall/Winter 2021/22 season and based on the creative ideas developed by the Lineapelle Fashion Committee. The theme of the February 2020 edition of Lineapelle (simplification) has been updated as The Era Of Simplifying 2 – Slow Is The New Hot: "The timing of our lives is changing. It is no longer haste, but value that influences choices. A new era is beginning, characterized by a desire for high definition."
THE TECHNO-DIGITAL DIMENSION
LINEAPELLE – A NEW POINT OF VIEW combines the physical dimension with a series of techno-digital projects.
Firstly, 365 SHOWROOM is online, a digital platform that operates 24 hours a day, 365 days a year, offering a marketplace where all exhibitors can open a space to upload and promote their collections.
During the course of LINEAPELLE - A NEW POINT OF VIEW, customized connections and streaming services will be offered, in real time, with customers in China, Korea, Japan and the USA, eliminating their enforced distance with a click.
In Hall 7, within a technological space, Dyloan (a company that combines innovative technology, creativity and manufacturing) will present several live streaming events in which traditional and technological craftsmen, in collaboration with designers from various backgrounds (fashion, footwear and interior design) will focus on the latest technological solutions for customizing materials and products.